By Kurt Kaeser on 2019-06-11 in News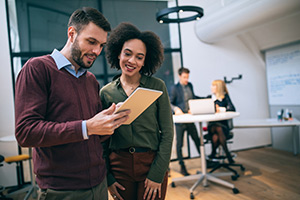 Become A Promotional Products Distributor with Kaeser & Blair
Have you ever considered becoming a promotional products distributor? Chances are, you've probably come across direct distributors in your friend groups or family. However, you may not have thought of participating in this exciting form of sales before. Kaeser & Blair gives you the freedom to run your own business as a promotional products distributor.
Kaeser & Blair is a direct sales company that specializes in promotional products. We have been in business for over 100 years, which has given us a lot of experience in our industry. As a family owned-and-operated business, we value honest work and time-tested sales techniques. Our strong relationships with vendors and manufacturers have made us one of the best companies in the promotional products industry. When you sign up to be a promotional products distributor, you get access to all of these established relationships!
Promotional products are an essential and effective advertising tool for any business. Whether it be a large corporation or small business just starting out, promotional products are a cost-effective way to get a brand into customer's or potential customer's hands. Over 50% of people keep their product for more than a year after receiving it. In fact, if you look around, you'll probably find a pen, t-shirt, or calendar with a company's logo.
Every promotional products distributor with Kaeser & Blair runs their own business from the comfort of their own home (or wherever they choose). Many do it in addition to a full-time job in order to make some extra money to help pay the bills, save for their child's college, or just to have some extra money. Your business is entirely yours: you choose when and where to work, as well as who you sell to. We don't impose restrictions such as commission caps, and you won't be forced to share your client list with anyone. When we say it's your business, we really do mean it's your business!
If you're interested in becoming a promotional products distributor, order the Standard Business Owner Package for $85 and get started selling today! Part-time business owners make $7,000-$20,000 annually, and full-time business owners have made up to $180,000 per year!
This offer is risk-free. If you decide within 30 days that being a promotional products distributor is not for you, simply send back the package and we'll give you a full refund. However, if you stick with it, we'll refund you your $85 after your first $1,500 in sales. This offer is a win-win!
If you're not all the way on board yet, order the FREE TRIAL LAUNCH PACKAGE today to see how much you could be making!