By Kurt Kaeser on 2019-03-12 in News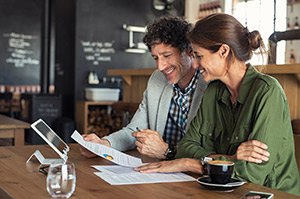 Kaeser & Blair Makes Direct Selling Easy and Fun
Direct selling can sometimes be mistaken as a synonym for "scam." If a company uses direct distributors, they must not be reputable, right? Wrong! Kaeser & Blair gives people the opportunity to be the owner of their own promotional products business. No scams, no expensive buy-ins, and no strict contracts. Just real people selling real things to businesses who need them.
Kaeser & Blair is a promotional products distribution company that has been helping people hone their entrepreneurial spirits for business for over 100 years. Direct selling has been a part of our business for such a long time that we have acquired the necessary knowledge to ensure you experience success. We are family owned and operated with a solid reputation with hundreds of vendors and suppliers that our business owners can use for their blossoming businesses.
Promotional products are everywhere. You probably have a t-shirt, pen, or mug with a brand's logo on it somewhere close to you right now. Have you ever wondered where these products come from? Kaeser & Blair business owners sell these products to the businesses that need them through direct selling. As a Kaeser & Blair business owner, you will be equipped with the right knowledge and sales techniques to turn your direct selling business into a profitable endeavor.
The promotional products industry is one of the fastest-growing industries in the country. Recently, it hit $23.2 billion in sales and is only expected to keep growing. By jumping on this exciting opportunity now, you can guarantee that the profits you earn will only continue to increase over time. Through direct selling, you have the chance to create personal one-on-one relationships with the businesses you sell to. Other promotional products companies cannot say they have the personal touch that a Kaeser & Blair business owner brings to a professional relationship.
At this point you may be thinking, "This all sounds great, but how much will I make?" The answer depends entirely on how much work you want to put into your direct selling business. Part-time business owners usually make anywhere between $7,000-$20,000 per year while easily maintaining another full-time job or going to school. If you choose to make Kaeser & Blair your full-time job, you could make up to $180,000 per year! If these numbers sound too good to be true, think again! We don't impose a commission cap on our business owners, meaning you can make as much money as you want!
It's easy to get started with this direct selling opportunity. Simply purchase the Standard Business Owner Package for a one-time low price of $85 and get started selling today. Being a Kaeser & Blair business owner is risk-free; if you find that direct selling isn't for you within the first 30 days, you can send your package back and receive a full refund. When you make your first $1,500 in sales, your $85 will be refunded to you! No matter what, you'll find that this opportunity is unlike any other of its kind.
Still not 100% sure? Order the FREE TRIAL LAUNCH PACKAGE today and see just how much you could be making today!