By Kurt Kaeser on 2019-02-26 in News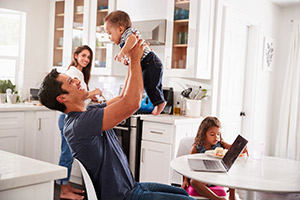 Never Have A Dull Moment With Kaeser & Blair's Small Business Ideas.
With an empty nest and more time on your hands than expected, you may be looking to fill that time with a new business endeavor. However, knowing where to start can be difficult and may even turn you away from running your own business. With Kaeser & Blair's small business ideas, you'll never have a moment of confusion when operating your business.
Kaeser & Blair is a promotional products distribution company that wants to help empty nesters like you succeed. We have been in business for over 100 years, so you never have to worry about doing business with a company that's not successful. Our business is built on the solid foundations we've built with hundreds of vendors and thousands of business owners who have profited from their promotional products career. We believe in doing business the right way, which includes maintaining positive relationships through reliability and integrity.
With Kaeser & Blair's small business ideas you can have the flexibility to work whenever you want, wherever you want. We don't make you sign any strict contracts dictating how you should run your business or make you share your client list. Other direct distribution companies impose quotas, deadlines, and strict rules about what you can and can't do. We don't make you do anything you don't want, and we give you complete freedom. With our small business ideas, you are truly the owner of your own business.
How much can you make with our small business ideas? Part time Kaeser & Blair business owners make anywhere from $7,000-$20,000 annually, which is a nice addition to a full-time income heading into retirement. If you find great success in your small business ideas and choose to make Kaeser & Blair your full-time job, you could make up to $180,000 annually!
If you want to get started earning today, simply order the Standard Business Owner Package for $85. This package comes with everything you need to start and run your business: access to online training and information with Kaeser University, product samples, and our Best Buys Catalog that details our best sellers. This opportunity is risk free: once you hit your first $1,500 in sales, your $85 will be refunded to you! If you decide that selling promotional products is not for you, return the package within 30 days and we'll refund you the full cost of your package. You can't lose!
Still not sure? Order our FREE TRIAL LAUNCH PACKAGE and see how much you could be making with our small business ideas today!