By Kurt Kaeser on 2019-02-19 in News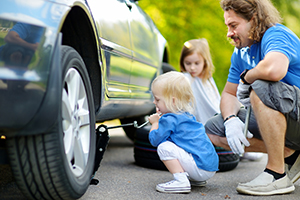 Never Miss Another Important Moment With Kaeser & Blair's Part Time Work From Home
Working hard to support your family is important, but sometimes you may feel like you're missing out on important events in your kids' lives. Paying the bills and building savings is crucial to your family's success but being there for them is just as important. Perhaps you've considered part time work from home before, or maybe you're just now coming around to the option. No matter your familial or financial situation, Kaeser & Blair is here to help your part time work from home ideas become a reality.
Kaeser & Blair is a promotional products distribution company that wants to make sure you never miss another event in your family's lives. We were founded in 1894, and with our 100+ years of experience, we've learned all of the best business practices that work in our industry. This means that you don't have to worry about part time work from home in an industry you're not familiar with – we've got it all figured out!
We are a leader in the promotional products industry, which recently hit $21.5 billion in sales. With Kaeser & Blair, you get to own your own promotional products business without having to spend all day in an office. This part time work from home is ideal for people who need a little extra help boosting their financial success, but don't want to spend more time than necessary away from the people they do it all for.
While there are many reasons to take advantage of the part time work from home opportunities Kaeser & Blair offers, the best aspect of the job is the flexibility we offer our business owners. You get to work when you want and where you want, meaning you can choose to take time off when you want to spend time with your family. You can easily run your business while working another full-time job to help pay the bills and boost your savings.
How much will you make with Kaeser & Blair's part time work from home? Our part-time business owners make from $7,000-$20,000 annually, which can help pay the bills or fund a much-needed vacation. If you find success and choose to make Kaeser & Blair your full-time career, you could make up to $180,000 per year! You could make even more than that – we don't impose a commission cap, so your earnings are limitless!
If you're ready to begin part time work from home, simply order the Standard Business Owner Package for a one-time low fee of $85 and start making money today. This package comes with everything you need to start a successful business, as well as access to lots of training materials to make sure you aren't going into the industry blind.
Kaeser & Blair's part time work from home could be the solution to spending more time with your family. Still not sure? Order our FREE TRIAL LAUNCH PACKAGE and see how successful you could be today!