By Kurt Kaeser on 2019-02-12 in News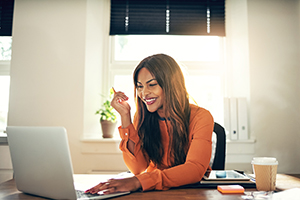 Never Sign A Strict Contract Again With Kaeser & Blair's Home Based Business Opportunities
The appeal of working from home often brings many people to the internet in search of home based business opportunities. However, they are often met with a slew of companies that have strict contracts, require long hours, and ask their distributors to bend over backwards to make money. After seeing this, those people end up resigning their ideas and sticking to the boring desk job they wanted to get away from. Don't let that be you! Kaeser & Blair has home based business opportunities that can fit any lifestyle without sacrificing anything to make a profit.
Kaeser & Blair is a promotional products distribution company that gives aspiring entrepreneurs the opportunity to become business owners. Over our 100+ years of business, we have created a trustworthy reputation with hundreds of vendors and business owners who choose to continue their relationship with us. In fact, we are a leader in the promotional products industry, so you won't have to worry about whether or not you're doing business with a reputable company.
How do our home based business opportunities work? We don't make you sign a rigid and narrow contract, so you can go about running your business the way you want. When you sign up to be a Kaeser & Blair business owner, the only thing you have to worry about is selling products. Once you place the order, the rest is up to us! No buying inventory or billing clients; selling is your only priority.
You can partake in our home based business opportunities by purchasing the Standard Business Owner Package. For a one-time fee of $85 you get access to high-quality training materials, established relationships with hundreds of vendors, and a wide assortment of samples. You get to sell whenever you want, wherever you want, and to whomever you want. We don't enforce any monthly quotas on our business owners. Our home based business opportunities come with no strings attached!
As a Kaeser & Blair business owner, you have an unlimited profit potential. If you choose to run your business part-time, you could make anywhere from $7,000-$20,000 per year. However, if you want to turn our home based business opportunities into your full-time job, you could make up to $180,000 per year!
If you're still unsure about our home based business opportunities, order a FREE TRIAL LAUNCH PACKAGE and try us out!