By Kurt Kaeser on 2019-04-23 in News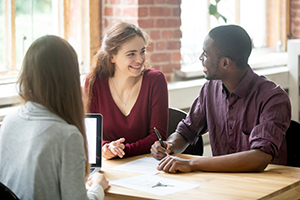 Kaeser & Blair Has Small Investment Ideas for Everybody
Have you thought about small investment ideas recently? You may be thinking you don't have the time or money to think about investment opportunities, especially with a fluctuating market. What if we told you about a risk-free investment idea that is guaranteed to make you money? No, it's not a scam, it's the Kaeser & Blair business owner program!
What is Kaeser & Blair? We are a promotional products distribution company that's here to help you turn your small investment ideas into a profitable business venture that can be run from the comfort of your own home. With over 100 years of business behind us, we are confident in helping potential business owners like you succeed in whatever you want to do. When you choose to work with Kaeser & Blair, you get to access to hundreds of already-established vendor relationships and become part of a system of successful business owners.
Small investment ideas may sound great, but why invest in the promotional products industry? This industry is one of the most rapidly growing in the country, experiencing a $1.8 billion increase in sales in the past four years to bring the total sale count to $23.3 billion. The expansion is only expected to continue, making this the perfect time for small investment ideas in this industry.
When you sign up to be a Kaeser & Blair business owner, you have two options for running your business. If you choose to have your promotional products business be your part-time job, you could make anywhere from $7,000-$10,000 per year without having to sacrifice time away from another full-time job or school schedule! If you decide to make Kaeser & Blair your full-time job, you could make up to $180,000 a year – but the earnings don't have to stop there! We don't impose a commission cap on our business owners, so the profit potential is limitless.
If you're ready to start earning with these small investment ideas, simply order the Standard Business Owner Package for $85 and get started today! This package comes with everything you need to run a successful business, including an array of product samples and access to hours of online training materials. Getting started is easy!
Not many small investment ideas are risk-free, but this one is. Why? When you earn your first $1,500 in sales, we'll refund you your $85 investment! And, if you decide direct sales aren't for you, you can return your package within the first 30 days and receive a full refund. This opportunity is 100% risk free!
If you still aren't sure if these small investment ideas are for you, order our FREE TRIAL LAUNCH PACKAGE and see how much you could be making today!