By Kurt Kaeser on 2019-01-15 in News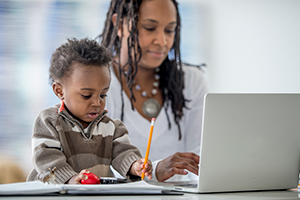 Kaeser & Blair Offers The Best Stay At Home Mom Jobs In The Industry
Stay at home moms have a lot on their plates; taking care of little ones is one of the most important, yet challenging, tasks in the world. With an entire life revolving around children, you may be looking to do something for yourself and contribute more to your family than you already do. But how? A lot of companies don't allow their employees to be both a stay at home parent and have a successful career. Even still, the few businesses that do provide stay at home mom jobs are riddled with policies and rules that make it nearly impossible to have success. At Kaeser & Blair, our stay at home mom jobs are completely contract-free, so you can run your business on your terms.
What is Kaeser & Blair? We are a promotional products distribution company that wants to help people like you succeed in their business goals. Founded over 100 years ago, we are family-owned-and-operated. Unlike other businesses that penalize you for wanting to stay home and take care of your family, we celebrate your decision because family is important to us as well. We have a rock-solid reputation with the vendors we work with, and our distributors manage their businesses the way they want. Our stay at home mom jobs offer you the flexibility you require without sacrificing the quality of your business.
With Kaeser & Blair's stay at home mom jobs, you get to sell where you want, when you want, and to whomever you want. This flexibility is unmatched by any other stay at home mom jobs from any other company. You get to run your business whenever you have time and still make a profit! Our part-time business owners can make anywhere from $7,000-$20,000 per year, which is easily done in between putting the kids down for a nap or driving them to soccer practice. You can have a successful promotional products career and still be a successful mother!
Promotional products are one of the most popular methods of advertising. Many people, including you, probably have a pen or koozie laying around that has a company's logo on it. Unlike other forms of advertising, promotional products offer a tangible and affordable way to bring the company's name into people's homes. Companies need these products, but sometimes don't know where to find them. That's where you come in; our stay at home mom jobs let you sell promotional products from the comfort of your own home without having to sacrifice the quality of care you provide your family.
Taking part in our stay at home mom jobs is simple: for a one-time fee of $85, you receive the Standard Business Owner Package. This package is stuffed with everything you need to run a successful promotional products business: training materials, access to our thousands of vendors, and our Best Buys catalog with all of our best-selling products. We set you up for success from the very beginning!
Still aren't sure if this career is right for you? Order our FREE TRIAL LAUNCH PACKAGE and see just how much you could be making today!