By Kurt Kaeser on 2018-05-22 in News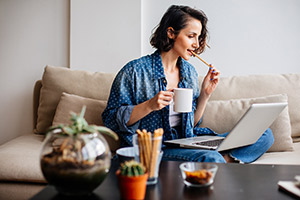 Kaeser & Blair Offers Profitable and Flexible Home Business Ideas
Tired of paying for a babysitter or daycare and working odd-hours at your current job? When your spouse is busy working and everything's piling onto your plate, working from home could be the most ideal option for you. Kaeser & Blair's home business ideas provide you the opportunity to work in the comfort of your home, while supplying you with the necessary tools for success.
You may be struggling with figuring out a plan for your future, balancing work and home life, and know first-hand how difficult it is in today's world to come up with an answer. Fortunately, Kaeser & Blair is here to help you build a better life for you and your family. Our home business ideas offer a plan that is fit for you.
By signing up to become a Kaeser & Blair business owner and purchasing the Standard Business Owner Package for only $85, you can immediately start working from home and making a profit. This package will include basic necessities, such as our Best Buys Catalog, which more than 90% of our most successful business owners use to sell promotional products. In the off chance that you decide selling promotional products isn't for you, we allow you to return the package within 30 days for a full refund.
Kaeser and Blair's home business ideas offer you a chance at freedom and time to spend with your family. Working when and where you want sounds good, but is it too good to be true? Truthfully, Kaeser & Blair is an opportunity above all others. The proof is inherent in the business model. With K&B you have the potential to make great profits and are supported with the strongest reputation in the industry.
On top of all that, the amount of work and profit is completely up to you; some business owners who put in effort make as much as $100,000 or more every year. Our business owners average a 20% profit from their sales and have an average order size of $785. Imagine what K&B could allow you to do for your family; the possibilities are endless. The profit potential is one of many reasons Kaeser & Blair's home business ideas rises above the competition.
If freedom and flexibility is what you're looking for in home business ideas, look no further. Request our FREE TRIAL LAUNCH PROGRAM today or, if you're ready to begin, purchase the Standard Business Owner Package to embark on this journey with your new Kaeser & Blair family. And if you have any questions or need support along the way, our home business ideas has a reliable support team that is there to help you through the process.