By Kurt Kaeser on 2018-02-06 in News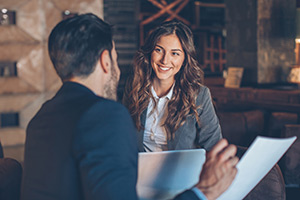 Kaeser & Blair is One of the Best Direct Sales Companies for Empty-Nesters
When your children are all moved out of the house, you'll notice there is much more room in your life and we don't just mean extra space in the house. As you and your family get older, you'll notice the extra room in your schedule to begin focusing on other things. This extra bit of time is why some empty-nesters begin to focus on starting direct sales companies.
By selling products outside of a retail environment, great direct sales companies give people the opportunity to focus on saving for retirement and the opportunity to spend on travel. Unfortunately, the world is full of mediocre direct sales companies. So how do choose between the great direct sales companies and the mediocre direct sales companies? Well, let's look at Kaeser & Blair Promotional Products as the prime example of a great direct sales company.
Kaeser & Blair Promotional Products lets individuals become business owners with the sole responsibility of selling promotional products. Since 1894, Kaeser & Blair has had a stable history with more than a century of reliability and integrity. With an A+ Better Business Bureau rating, we have the largest group of independent business and are known as an industry leader.
The strongest reputation in the industry isn't the only thing that separates us from other direct sales companies. We also offer profits that are beyond compare. For example, as a Kaeser & Blair business owner, you would be able to work as much as you want either part-time or full-time. With profit potential up to 65% of gross margins, part-time business owners could potentially make up to $20,000 per year and full-time business owners could make up to $185,000. You can easily reach either of these amounts with the help of the Best Buys catalog. With this catalog, the products would basically sell themselves. In fact, more than $100,000 in promotional products is sold from the Best Buys catalog everyday!
Additionally, Kaeser & Blair truly lets its business owners stay in control. Unlike other direct sales companies, Kaeser & Blair doesn't require you to sign any binding contracts which means you can run the business the way you want. As we mentioned before, at Kaeser & Blair, you can be your own boss and decide if you want to work part-time or full-time. You'll even be able to choose the hours you work and where you work from. Empty-nesters enjoy the opportunity at Kaeser & Blair because they have the freedom to work from home and it doesn't get in the way of their personal life.
Does joining one of the best direct sales companies sound like something that interests you? For a minimal startup cost of $85, you can order our Standard Business Owner Program. In it, you will find all of the essentials including the Best Buys Catalog we mentioned earlier. Once you reach your first $1,500 in sales, we'll refund your $85 investment. You can also take comfort in knowing that if you change your mind, you can always send back the kit within 30 days for a full refund.
We also invite you to compare us to other direct sales companies by requesting our FREE TRIAL LAUNCH PACKAGE. We're confident you will see how Kaeser & Blair can help you save for retirement and travel!