By Kurt Kaeser on 2018-01-23 in News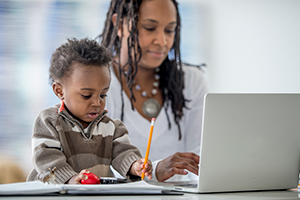 Kaeser & Blair's Stay At Home Mom Jobs Help Support You and Your Family
If you are a stay at home mom then you may feel like the president of a small company. Your home feels like an office and your kids are the customers you try to keep happy. Unfortunately though, you aren't getting paid. Sure hugs and kisses are a great source of appreciation but that appreciation doesn't help pay the electric bill.
Wouldn't it be great if there were stay at home mom jobs to help you earn extra money while also being flexible enough to raise your kids? Fortunately, with Kaeser & Blair Promotional Products they've perfected the concept of stay at home mom jobs.
Through the purchase of our Standard Business Owner Package you really would be someone who runs their own business. As a Kaeser & Blair business owner, you would be a stay at home mom who sells promotional products on the side. And unlike a normal business, you would run it from the comfort of your home and at the hours you set. Kaeser & Blair's Business Owner Program is ideal for women looking for stay at home mom jobs because it offers complete flexibility by putting you in total control.
What does total control mean? Exactly what it sounds like – you'll have the ability to set your own schedule and determine how much you make. At Kaeser & Blair's stay at home mom jobs, your profits are merely dependent on how many sales you make. The more time you put into selling promotional products the more money you should expect coming back to you.
Plus, we won't ask you to reach any quotas or minimums because we realize your family takes first priority. The effort you put into running the business is completely up to you. Do you want to give our stay at home mom jobs a part-time approach? Do that. Part-time business owners still receive a generous profit potential. In fact, they can earn an annual amount anywhere between $7,000 to $20,000. Doesn't that sound like a great way to help support your family?
Best of all, to join Kaeser & Blair's stay at home mom jobs it only requires a one-time, minimal startup cost of $85 (we'll refund this amount to you after your first $1,500 in sales). This is how you'll get our Standard Business Owner Package which contains immediate access to online training, a large assortment of products samples, and numerous catalogs including our Best Buys Catalog. Consider them all tools to help you become successful in our stay at home mom jobs.
Once you have our starter kit, you can focus on bringing extra financial support to your family. Are you ready to get started? Click here to become a promotional products business owner today!
Still not sure about our stay at home mom jobs? Try it before you buy it by requesting our FREE TRIAL LAUNCH PACKAGE. We're confident you'll see why so many stay at home moms are taking advantage of this opportunity!