By Kurt Kaeser on 2018-01-16 in News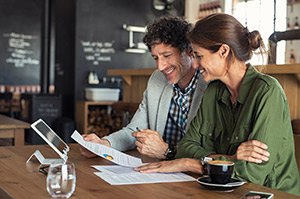 3 Reasons Why You Should Start Direct Selling with Kaeser & Blair
Typical American families are carrying an increasing amount of debt and need extra money to pay bills. If that happens to be the case for you, then you may have already considered finding another job to help bring in some more income.
Direct selling often seems like the quickest way to start making money but with so many options, how do you choose a direct selling company? Simple - you compare it to Kaeser & Blair Promotional Products. Kaeser & Blair is one of the best direct selling companies and here's why:
Kaeser & Blair is Flexible
Unlike most direct selling companies that might put certain restrictions on how you do business, Kaeser & Blair gives you complete control when you join. In fact, when you join the Kaeser & Blair Business Owner Program, you become your own boss. This means you can sell promotional products from wherever you want, whenever you want. If you think you can make a sale from home in the evening then go for it! The point is Kaeser & Blair won't stop you from working when you do or don't want to work.


Kaeser & Blair is Lucrative
When it comes to compensation, Kaeser & Blair has one of the best packages in the promotional products industry. With average profits at 20% of the sell price and average orders close to $785, you could quickly make money if you put in the effort. Let's say you approached direct selling as a part-time job - you could make anywhere between $7,000 to $20,000 a year. And if you approached direct selling as a full-time job, you could make between $60,000 to $185,000. Can other direct selling companies say the same?


Kaeser & Blair is Low Risk
Last but not least, Kaeser & Blair offers little to no risk to its business owners. This is accomplished by making the startup cost a small, one-time fee that is also refundable. For only $85, you can receive the Standard Business Owner Package. In it, you'll find all the tools you'll need to achieve success selling promotional products, including our Best Buys catalog which almost guarantees sales! Once you reach your first $1,500 in sales you'll get back your $85 investment, or if you decide direct selling isn't for you, then you can send back the package within 30 days for a full refund. It's as simple as that.
Are you ready to start direct selling with Kaeser & Blair? With complete flexibility, generous profit potential, and virtually no risk, it's a great opportunity to help make extra money for your family. Just click here to order the Standard Business Owner Package and get started today.
If you are thinking about direct selling but aren't sure about Kaeser & Blair, then find comfort in knowing that Kaeser & Blair has been a trusted name in the industry since 1894. Plus, you can always request our FREE TRIAL LAUNCH PACKAGE. Not only does this package help you get a taste of what it feels like to be a Kaeser & Blair business owner, it also helps you compare us to other direct selling companies. So go ahead – try us out today!