By Kurt Kaeser on 2018-01-09 in News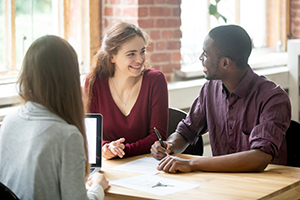 2 Small Investment Ideas To Grow Your Family's Financial Well-Being
Finding a way to make extra money that fits in with your busy schedule can be a challenge. However, it may also be necessary for families who want to live the lifestyle they desire. So how do you find a healthy balance? Well, have you looked at any small investment ideas?
Kaeser & Blair has 2 small investment ideas in the form of a Business Owner Program that can help build your family's equity and provide financial security. Each one providing you a unique opportunity to own and run a promotional products business. Read more about these small investment ideas below:
Standard Business Owner Package
The Standard Business Owner Package is the least expensive of Kaeser & Blair's small investment ideas but it still packs a great deal of opportunity into it. For the minimal startup cost of $85, you can receive a large assortment of product samples, catalogs, and immediate access to our online training assets. Basically, it's filled with everything you need to become a successful promotional products business owner!


Premium Business Owner Package
The more expensive of our small investment ideas is our Premium Business Owner Package. As you might expect, it comes with all the tools you would get from our Standard Business Owner Package plus much more. For a total of $299, you would receive the following:

Personalized website with your unique URL/web address hosted by Kaeser & Blair (to access demo of website go to www.greenepromos.com)
Personalized email address
50 Best Buys catalogs
1,000 custom business cards
100 Javelina Tropical Pens with your custom printed message promoting your new promotional products business

After your initial investment of $299, there will be a yearly cost of $200 to cover the expense of your website hosting and email – an important expense to make sure you have an online presence.
What isn't physically included in these small investment ideas but is still very much a part of the Kaeser & Blair Business Owner Program is job flexibility and generous earning potential. Whichever option you choose, you won't be asked to sign any binding contracts or restrictive agreements, which means you can sell promotional products when and where you want.
That's right – as your own boss, you would set your own schedule. This means regardless of which of the small investment ideas you choose, you could decide to be a full-time or part-time business owner. Either way, the profit potential is generous. In fact, with profit margins up to 65%, part-time business owners can make as much as $20,000 annually. And full-time business owners can make as much as $185,000 annually. Not bad for small investment ideas!
So are you ready to take advantage of these small investment ideas? Click here to get started today! If you decide you don't like selling promotional products, then you can always return within 30 days for a refund.
Not ready to invest? Request our FREE TRIAL LAUNCH PACKAGE to compare it to other small investment ideas.