By Kurt Kaeser on 2017-12-12 in News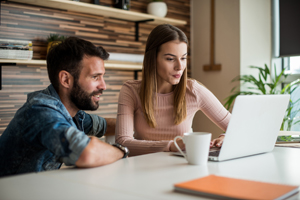 Start Your Own Business. Be Your Own Boss. Increase Your Income.
Building a solid foundation for your family can be tough. Despite your best efforts, you might still need some extra money to pay bills and maintain the lifestyle you've become accustomed to. You may feel like you've tried everything to make more money but have you ever tried to start your own business?
In the past, you used to need much more than an entrepreneurial spirit to start your own business. Before the internet, you needed a storefront and an incredible amount of time to become a successful business owner. However, these days you can easily start your own business with a company like Kaeser & Blair Promotional Products.
With a stable history since 1894 and more than a century of integrity and reliability, Kaeser & Blair has the strongest reputation in the promotional products industry. By offering a unique business opportunity, Kaeser & Blair changes the way you can start your own business. In fact, through the Kaeser & Blair Business Owner Program, you can start a promotional products business at the low startup cost of $85.
Unlike other companies that might cost a fortune to start, Kaeser & Blair is an inexpensive and realistic opportunity for someone trying to make extra money. With no inventory to buy or storage space to maintain, your initial investment to start your business is really just the cost of the Standard Business Owner Package. For $85, you'll get our starter kit with everything you'd need to be successful including our Best Buys Catalog, which 90.6% of our most successful business owners use everyday.
Best of all, the Standard Business Owner Package gives you the freedom to take charge of how things are run. Start your own business working the hours you want to work and set your own schedule. As someone who would be selling promotional products you could work around your family's schedule and focus on making money when it's convenient for you. The more time you commit to it, the more profits you'll see coming to you. It's an opportunity that puts you in control of earnings.
So how much can you expect to earn?
Since Kaeser & Blair has no quotas or minimums, you get to decide how much or how little you make. The profit potential is there, in fact, profit margins can reach up to 65% – it just depends on how much effort you want to put into selling promotional products. If you start your own business with Kaeser & Blair and treat it like a part-time job, then you could see anywhere between $7,000-$20,000 per year. Plus, you could turn it into a full-time career and see an annual amount of $60,000 to $185,000. Either way, it's a great profit potential versus what you might struggle to get anywhere else.
Are you ready to make money in a way that is convenient for you? Start your own business by ordering a Standard Business Owner Package today. Once you reach your first $1,500 in sales, we'll refund your $85 investment. You can also take comfort in knowing that if you change your mind, you can always send back the kit within 30 days for a full refund.
Kaeser & Blair also allows people to try selling promotional products before signing up in the Business Owner Program. If you want give it a try before your you start your own business then go ahead and request our FREE TRIAL LAUNCH PACKAGE. We're confident you will see how Kaeser & Blair can help build a more solid foundation for your family.