By Kurt Kaeser on 2017-10-31 in News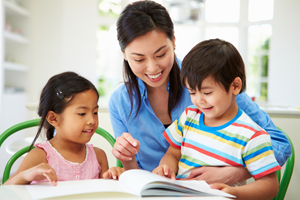 Start A Stay At Home Mom Job With Kaeser & Blair And Make Money Around The House
Paying for childcare is oftentimes a huge expense. For a lot of families it may seem like the better (and cheaper) option is for a spouse to just quit their job and stay home with the children. However, losing that second income can be a big hit too. That's why families should consider finding a stay at home mom job.
By working a stay at home mom job, mothers can still make money all while watching the kids. At Kaeser & Blair Promotional Products, we offer a stay at home mom job with generous earning potential. In fact, just by selling promotional products part-time you could make an annual amount of anywhere between $7,000 to $20,000. Some people who work full-time even make up to $185,000 annually. At Kaeser & Blair, you would be put in control of your income and how hard you work.
Control - that is what stay at home moms want. More control over the kids. More control over the day. And more control over household income. Control is exactly what we offer in our stay at home mom job. By joining Kaeser & Blair, stay at home moms become business owners. This means they are given control over their work schedules and how they sell promotional products.
Since Kaeser & Blair gives you total control of your own promotional products business you get to be your own boss. Work whenever you may have the time - either while your children are at school or while they play outside. There are no quotas you have to match so you can work at the pace you want.
The best part? It's easy to get started!
For a minimal start-up cost of $85, you'll get all the tools you need to find success in the promotional product industry. We call this assortment of tools our Standard Business Owner Package and in it are several catalogs, product samples, and online training assets to help you start your stay at home mom job. And since Kaeser & Blair doesn't ask you to buy or maintain any inventory, you won't have to worry about making any other purchases or your kids getting into your stock.
Once you reach your first $1,500 in sales, Kaeser & Blair refunds the startup cost back to you. Since average orders are typically $785, your stay at home mom job basically pays for itself within a couple of sales! You can also return the starter kit within 30 days to receive a refund if you decide selling promotional products isn't for you.
You can get started for FREE by requesting Kaeser & Blair's Free Trial Launch Package. You can also skip the trial and move straight to the Standard Business Owner Package by clicking here.