By Kurt Kaeser on 2017-10-03 in News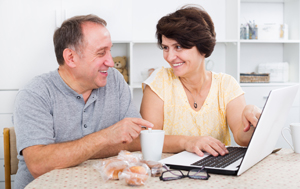 Turn your "empty-nest" into an office with Kaeser & Blair's part time jobs from home
In this day and age, everyone has bought at least one thing online. Whether it was through Ebay or Amazon, buying things is much easier thanks to the internet. Reversely, so is selling things! Thanks to the internet, making a sale has never been easier and working from home is a real possibility. In fact, Kaeser & Blair Promotional Products offers that exact idea through their part time jobs from home.
Kaeser & Blair's part time jobs from home are great for anyone who may be saving for retirement or planning to travel. Why? Because a partnership with Kaeser & Blair reaps impressive rewards.
First, when you partner with Kaeser & Blair you're actually becoming a business owner. Essentially, this means you get to be your own boss and run a business selling promotional products the way you want. You will be able to set the hours that work best for you from whatever location you prefer. That's why Kaeser & Blair considers their Business Owner Program one of the best part time jobs from home - work from home in the morning or at night!
The Kaeser & Blair Business Program doesn't have to be just part time jobs from home though. If you wanted, you could make your promotional products business into a full-time career. Either way, you would be able to make a generous earning potential. It's just the more you work, then the more you'll earn. In fact, people who choose to start Kaeser & Blair's part time jobs from home can potentially have annual earnings from $7,000 to $20,000. People who work full-time may make annual earnings from $60,000 to $185,000. Not bad for a job that allows you to work from home!
Getting started is also easy. Instead of asking you to take out a large portion of your savings or retirement, Kaeser & Blair offers a minimal startup cost. In fact, becoming a business owner would only cost you a one time amount of $85. This would grant you our Standard Business Owner Package which contains all the materials you would need to become a successful promotional products business owner.
Your financial freedom only costs a mere $85. After you receive your starter kit, you could use our Best Buys Catalog to sell thousands of promotional products. In fact, average orders are $785 and average profits are usually 20% of the selling price. There's a reason why over 90% of our successful business owners use the Best Buys Catalog every day.
So what are you waiting for!? Order a Standard Business Owner Package today!
If you're still not sure then you can try making your first sales through our FREE TRIAL LAUNCH PACKAGE with no obligation! We invite you to compare us to other part time jobs from home. We're confident you won't find anyone else that works better for you and your retirement goals.