By Kurt Kaeser on 2017-09-26 in News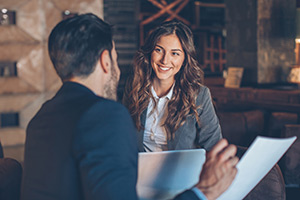 3 Questions To Ask Yourself When Choosing Direct Sales Companies
When choosing between direct sales companies, you should choose one that will positively impact your family's lifestyle. Obviously, you want to sell products you believe in but not every direct sales company is looking out for your best interest. Here are 3 things you should ask yourself before settling on any direct sales companies.
1. How Does It Affect My Schedule?
Before adding anything new to a busy schedule, most people want to know how easy it can fit in with what they already have planned. Some direct sales companies may still require a set schedule or amount of hours you would need to work. While other companies may have a monthly quota you would have to reach to continue being a direct seller. As a Kaeser & Blair Business Owner, neither would be the case. We don't ask our business owners to sign any contracts or binding agreements, which means you can work whenever you want. In fact, you can sell promotional products as a full-time career or just as a side job to help pay off bills. We let you dictate your schedule.
2. How Does It Affect My Home?
One of the most annoying things about some direct sales companies is that they stick you with all of their products. Finding room for all of their stuff can be a bit challenging, especially when you're already making room for your teenagers' recreational activities. Plus, some direct sales companies may even ask you to use your home as a place to host selling parties. These requirements could quickly turn home into a less comfortable place.
Kaeser & Blair Promotional Products won't ask you to buy, store, or maintain any inventory. We also won't ask you to turn your home into a store front. When you become a business owner with us, you can sell promotional products without having your space invaded. In fact, once you submit a sales order we take care of the logistics, such as money collection and shipping the products you've sold to your customers.
3. How Does It Affect My Wallet?
Your wallet is another important thing to consider when choosing between direct sales companies. Not only do some of them charge large start-up costs and recurring fees, but there is hardly any payoff.
Kaeser & Blair is the complete opposite. We have a minimal start-up cost of $85 and a generous earning potential. In fact, some of our business owners make around $100,000 each year! When you consider how our average profits are 20% of the selling price and average orders are close to $785, then you can see the potential to make more and more with every sale you make!
Plus, the $85 minimal startup cost is refundable! So whether you make your first $1,500 in sales or just realize within your first 30 days of selling promotional products it isn't for you, you're capable of getting your money back!
So have you decided between direct sales companies yet? Promotional products are used by virtually every business or organization to advertise themselves and our business owners are seizing sales opportunities every day. Seize your opportunity now by requesting your very own Standard Business Owner Package here!
Still not sure? Request a FREE TRIAL LAUNCH PACKAGE here to learn more about us.