By Kurt Kaeser on 2017-04-28 in News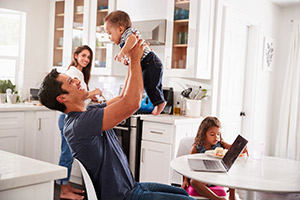 People oftentimes look to small business ideas to help them earn an extra income. However, coming up with small business ideas that work for you and your family can be challenging. Luckily, Kaeser & Blair has come up with the best of any small business ideas to help you pay off your bills and live a more comfortable lifestyle.
At Kaeser & Blair Promotional Products, our small business ideas consist of you selling promotional products from home. And unlike other small business ideas, ours are easy to start! In fact, it only costs $85 to receive our Standard Business Owner Package. In our starter kit, you'll receive the necessary tools to help you become successful including our Best Buys Catalog, which more than 90% of our most success business owners use every day.
If you want a more heavy-duty starter kit then you could order our Premium Business Owner Package. For what was normally $335, you'll now receive the Standard Business Owner Package plus your own website, business cards, pens, and 50 Best Buy Catalogs for only $299.
Regardless of which of our small business ideas you choose, you'll still get a refund of $85 once you make your first $1,500 in sales. We'll also refund your initial investment if you send back the starter kit within 30 days. So not only are our small business ideas easy to start, but they're also risk-free!
At this point, you may still be wondering though how our small business ideas can help you pay your bills and live a more comfortable lifestyle. Well for one, the Kaeser & Blair's business owner program is extremely flexible. Since it's your own business, you are your own boss and can set your own hours. With Kaeser & Blair, you can work whenever and wherever.
Secondly, Kaeser & Blair offers a tremendous earning potential to its business owners. Obviously, the more you work the more you'll make through our small business ideas. For example, part-time business owners, such as people who already have a primary job, can earn up to $7,000 to $20,000 yearly. While people who may want to pursue one of our small business ideas as a full-time career could potentially earn an annual amount of $60,000 to $185,000. At Kaeser & Blair, small business ideas can really turn into huge opportunities for those who put in the effort.
So what do you think? With a minimal start-up cost, ability to run your own business, and a tremendous earning potential, why try thinking of any other small business ideas? Kaeser & Blair has already figured it out for you!
Try out our small business ideas by requesting a Free Trial Launch Package today!