By Kurt Kaeser on 2016-06-14 in News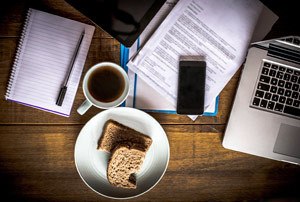 Some of the most recognizable corporate names in existence today began as home businesses. So it's no surprise that so many people are embracing the entrepreneurial spirit and trying to start a home business. What about you? Have you ever considered going that route? If so, here are five things to consider to help you determine if you are ready to take the next step and start a home business.
Space
Most people assume that to start a home business, an entirely separate office space is needed. That is far from the truth. All that is really needed is comfortable space to use your computer, or space spread a notebook out. A little table space (even a vacant kitchen table) can go a long way. So if you have this space available from which you could comfortably work at your own convenience, then you are in a great position to start a home business.
Environment
Do you thrive in a flexible environment? Does the ability to be in control of your future inspire you to work harder? If so, then you would probably find it beneficial to start a home business. When you start a home business, you are your own boss and you determine when you work and when you relax. This allows you to determine your "peak" hours, and work within the confines of those.
Personality
Those who are most successful with home businesses are those who are able to work independently, without a boss telling them how to spend their time throughout the day. If you're a naturally internally-motivated person, then the opportunity to start a home business should seem like a logical next step.
Money
If the single most motivating factor for you is the desire to make extra money, then you are more than ready to start a home business. When you start a home business, you are generally in control of your earnings. You can earn as much or as little as you want, depending on how much you work. So for those looking to make extra money on their own terms, this is an ideal setup.
So, what's the verdict? Are you ready to start a home business? If so, consider the Kaeser & Blair Promotional Products Business Owner Program. Kaeser & Blair is a family owned and operated business with more than a century of history helping ordinary individuals become successful entrepreneurs. Start a home business with Kaeser & Blair today.