By Kurt Kaeser on 2016-06-24 in News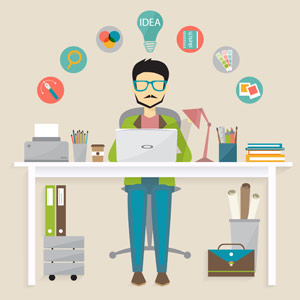 Unique business ideas can be found in abundance, though they often lack the lucrative aspect that more traditional business opportunities offer. Kaeser & Blair Promotional Products Business Owner Program is different. Through our unique risk-free program, our independent business owners can become successful entrepreneurs in a $21.5 billion industry, with flexibility and freedom that are second to none.
Easy, Risk-Free Opportunity
Some unique business ideas require an immense amount of effort on the part of the individual starting the business. Many require a substantial investment of time, money and space with little to no guarantee that there will be a return. Simply put, they're high risk and low reward. Kaeser & Blair is different. To begin with, startup is incredibly simple. There are two business owner packages to select from, each of which includes all the essentials to get your business up and running. And unlike other unique business ideas, the investment is minimal--only $85.
The best part about this business setup is that there is absolutely no risk. If you decide within the first 30 days that the opportunity just isn't for you, you have the option to send the package back for a full refund. That amount is also refunded after your first $1500 in sales. It truly is one of the more unique business ideas today, because unlike many others that require an investment that you may not see a return on, you can earn the initial investment back. You'll find few other unique business ideas that offer the characteristics that this one does.
Flexibility and Freedom Second to None
Another piece that makes this opportunity one of the more unique business ideas today is the flexible work and freedom afforded to business owners. Under the Kaeser & Blair business model, business owners get the opportunity to work on their own terms. This means that those who want to pursue this as a part-time career can easily do so, and those who choose to pursue the opportunity full-time can do so, and to whatever extent they choose. There are no contracts, no sales minimums and no maximums. The ball is truly in your court with the unique business ideas available through Kaeser & Blair.
Exciting, Thriving Industry
Arguably one of the most enticing aspects of the Kaeser & Blair Promotional Products Business Owner Program is the industry that you become a part of when you partner with K&B. The promotional products industry is not only thriving, but it is an ever-evolving, exciting and creative one. As a promotional products business owner, you help businesses of virtually any size identify opportunities to leverage promotional products as advertising tools. You are part of the creative process, identifying opportunities and problems, and helping clients solve them. It's an incredibly rewarding career path to take.
So what's holding you back from pursuing the unique business ideas with Kaeser & Blair? Risk? Nope. Investment? Negative. Industry outlook? Can't be! With Kaeser & Blair Promotional Products Business Owner Program, there really is no excuse. Get started today.