By Kurt Kaeser on 2016-05-24 in News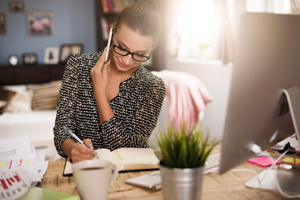 It's no secret that people are regularly making careers of direct sales opportunities. From selling candles and cleaning products to purses and promotional products, the possibilities within this realm are near endless. So, out of all of those opportunities, why are promotional products careers an optimal choice, and what can those who choose to get involved expect from them? Well, we're here to answer those questions for you.
Promotional products careers are an excellent direct selling option (and career option in general) due largely in part to the nature of the products being sold. Companies of every size and industry use promotional products as marketing tools to spread the word about their businesses. This is quite simply because promotional products are effective, and people recognize that. What they often don't realize is that they have creative people who have started promotional products careers simply to help them make sound decisions and ultimately select the appropriate promotional products to help meet their unique business needs.
This gives promotional products business owners access to a vastly untouched client pool, as well as the ability to demonstrate creative problem-solving skills with fun products—products that can be customized to a client's taste to achieve optimal results. Colors, logo placement and text can almost always be manipulated to achieve desired aesthetics. As a huge part of the process and a collaborator, you get a sort of control and power to inform your client and help them make the best decision. While other direct sales opportunities allow you to take a consultative approach, few allow you the creative freedoms of promotional products careers.
Not only do promotional products careers offer those who choose to get involved creative liberty, but they also offer income potential to match the constant demand, and the ability to essentially determine how much is earned. Business owners get percentage of each completed sale, so with an increase in sales comes an increase in earnings. The more work you put in, the more clients you will land and the more sales you will secure. It's that simple.
Promotional products careers also offer those who choose to start one the ability to work according to a schedule they choose. This means that priorities that extend beyond work can be easily worked around. You can work at night, for a couple of hours at a time, or even in the early morning hours—whatever is best for you. And unlike other direct selling opportunities, selling promotional products doesn't require party hosting, so the infringement on your personal life is minimal. Business owners are truly granted a sense of freedom and flexibility.
Various factors drive people to start promotional products careers. Sometimes it's the freedom; sometimes it's the income potential; and at other times even it's the industry and the creative outlet it provides. Regardless, these are all what people can come to expect when they embark on the exciting journey.
For those considering starting promotional products careers, consider Kaeser & Blair. Why Kaeser & Blair? It's simple. Along with the ordinary characteristics of promotional products careers, K&B business owners get the additional benefits of partnering with an A+ Better Business Bureau company that offers profits and reputation beyond compare! Get started today.