By Kurt Kaeser on 2016-05-03 in News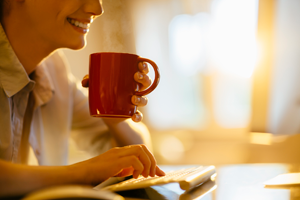 Many home based opportunities sell "the dream." They appear to offer everything – the ability to work from home (with a freedom and flexibility afforded by few other opportunities) and the ability to finally feel like you're in control. Appearances can be completely different from reality, and the majority of people are acutely aware of this fact. Many even have difficulty distinguishing legitimate home based opportunities from those that just don't deliver, and often don't take advantage of the opportunities because they're too skeptical to commit. It doesn't have to be this way, and we'll tell you why.
While the characteristics of these opportunities vary greatly, there are some universal defining characteristics of legitimate home based opportunities—characteristics that Kaeser & Blair constantly delivers.
The first characteristic to look for in all legitimate home based opportunities is freedom. This means freedom from contracts, freedom from commitments and freedom from a boss telling you exactly what to do with each hour you choose to work. Essentially, you should be able to determine how your time is spent, and be able to get out if and when you choose.
With Kaeser & Blair, you can rest assured that you are choosing to partake in one of the best legitimate home based opportunities around today. To begin with, you are given the ultimate freedom. Once you purchase the business owner package, you basically run your business as you choose. This means that you choose with whom you work, when you work and from where you work.
The second characteristic to look for in all legitimate home based opportunities is the ability to be in full control of your income. Basic logic implies that if you set your own schedule and determine how much you work each day, you should also be indirectly in control of how much you earn. In this case, basic logic is absolutely correct. Legitimate home based opportunities should reward those who choose to partake based on their hard work.
With Kaeser & Blair, you determine how much you work and with whom you work, meaning the more clients you secure and the more you sell, the more you earn. This setup allows business owners to work part-time or full-time, and make money according to sales volume. Part-time business owners have the ability to earn up to $20,000 annually, and full-time business owners as much as $185,000—all depending on how much they work and ultimately how much they sell. The legitimate home based opportunities with Kaeser & Blair put you in full control, as they should.
Another key characteristic to help you determine if the job is one of the few legitimate home based opportunities is the company's history and reputation. How long have they been around? Do they have an established reputation in their industry, or has no one ever heard of them when you mention their name? If name recognition is minimal or if they're fairly new to the industry, then the company is probably far from what should be considered among legitimate home based opportunities.
Kaeser & Blair is a promotional products leader, with the largest group of independent businesses in the industry. They are a company that has been in continuous operation for over 120 years, which is something that few companies (if any) can boast about.
So if you find yourself looking for legitimate home-based opportunities, look no further than Kaeser & Blair. They offer legitimate freedom and flexibility, legitimate control and a legitimate industry history and reputation—characteristics that few can truly deliver.