By Kurt Kaeser on 2016-03-29 in News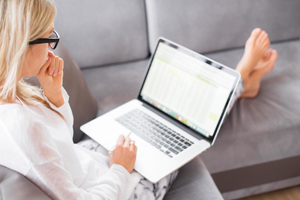 Many companies that once required an employee's regular presence in an office are doing a 180 and adopting more flexible requirements. With the advancement of technology and the steady emergence of tools in the digital space, employers often allow employees to fulfill their daily duties from the comfort of their own homes.

While there is no real shortage of stay-at-home jobs when looked at from this perspective, many of them seem to take a level of independence away from those who choose to partake in the opportunity. They dictate when the employee should work, and companies treat employees as inferiors, not equals. Not Kaeser & Blair! Kaeser & Blair empowers each of its independent business owners by putting them in the driver's seat.

So what makes the Kaeser & Blair Business Owner Program one of the best stay-at-home jobs around today? There are a few things.

You are a business owner.

The stay-at-home jobs with Kaeser & Blair aren't just jobs; they're independent businesses that many choose to pursue as full-time careers. Some opportunities require you to sign contracts or forfeit away your rights if you choose to leave. K&B does not. They call their promotional products salespeople "independent business owners" for a reason—because they are business owners in their own right. K&B takes pride in equipping each of their independent business owners with the tools they need to be successful, while allowing them to do business with whomever they choose and on terms they choose.

You create your own schedule.

The flexibility afforded to its business owners make the Kaeser & Blair Business Owner Program one of the best stay-at-home jobs around. The opportunities with K&B are perfect for those whose normal routine demands a sort of flexibility that is not afforded by the majority of careers today.

Business owners with K&B choose when they work, so they can work precisely however much they want. Some choose to work full-time, while others choose to only work part-time. Some who pursue stay-at-home jobs with K&B work during the day, while others run their business in the evenings. That element of flexibility is part of the beauty of the Kaeser & Blair opportunity.

You sell awesome products.

One of the things that makes the opportunity with Kaeser & Blair one of the best stay-at-home jobs is the industry that business owners are involved in—that of promotional products. The promotional products industry is thriving, and rightfully so. Businesses of every size and type use promotional products as a way of increasing brand and company awareness and expanding the reach of the business. These products come in various forms, from t-shirts and mugs to flash drives and Bluetooth speakers. The sheer variety of products sold gives them near universal appeal and marketability.

In addition to the ability to be in full control of your career while selling great products, the opportunity with Kaeser & Blair is also incredibly easy to get started. For only $85, you get the Standard Business Owner Package—the contents of which include everything needed to start a successful business selling promotional products.

So what's holding you back? See for yourself why K&B is one of the best stay-at-home jobs around!