By Kurt Kaeser on 2016-03-01 in News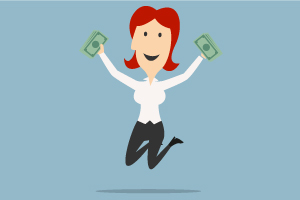 Whether you're a bit behind on bills, or just want to earn extra income to add to the family revenue stream, the promotional products industry offers a great way to do just that. Promotional products businesses put the business owner in the driver's seat in an industry that is both on the rise and expected to expand in coming years.
Industry Overview

Promotional products, also referred to advertising specialties, are anything that bears a company's logo, slogan or other piece of brand equity. They can be pens, mugs, t-shirts or a variety of other useful or novelty products. Companies belonging to every industry use these products, making selling promotional products a great way to earn extra income. If you take a second to consider the sheer number of local companies that would greatly benefit from these products, you will further understand why it is a great industry in which to get involved.
Industry Outlook
Many comparable opportunities to earn extra income are promoting fads, selling products that will fade into the trend horizon in the near future. Promotional products are no such items. Even as technology advances and new forms of advertising are made readily available, the demand for these products will remain. How does the industry adapt? This response can be witnessed in the consistent addition of new products to be marketed and sold. For example, promotional product vendors are frequently updating their inventory to reflect the latest trends in technology and useful products. The promotional products industry has consistently withstood the tests of time and deftly adapted, making it an increasingly reliable way to earn extra income.
Industry Opportunities
With the expansion of the industry, the ability to earn extra income within the diverse world of promotional products is almost limitless. While many other areas of the economy are a bit flat, this business is booming. In 2014 alone, the promotional products industry did over $21.5 billion in sales. There is near endless potential to earn extra income, and the lengths to which you take your own promotional products business are limitless.
The Kaeser & Blair Promotional Products Business Owner Program is a great way to get started in this thriving and exciting industry. With K&B, you can earn extra income in a position that is creative, fun and leaves a lasting impression. Learn more about the K&B opportunity.