By Kurt Kaeser on 2016-02-23 in News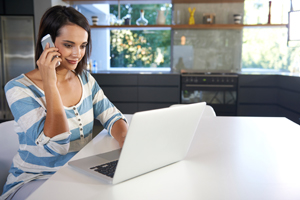 The normal 9-to-5 routine that requires employees to be present in the office daily for a given amount of hours is quickly dying out for a variety of reasons. Many people feel trapped by the constraints of this routine, one that often becomes both mundane and monotonous. One of the best ways to break through and reclaim your professional freedom is by starting a home-based business.
A home-based business can come in a variety of forms. Some people have a hobby that they choose to turn into a lucrative profession, while others choose to pursue a specific business model that has been laid out for them. Many choose to pursue direct sales opportunities because of this – there is already a foundation laid that encourages success and makes starting and running a home-based business increasingly simple.
A home-based business can provide a level of flexibility that other opportunities simply don't. Many get the mental image of sitting on the couch in pajamas, armed with nothing but a laptop and get-it-done attitude. While this is a possibility with a home-based business, that is not necessarily reality. A home-based business allows you to set your own schedule, so you can work the hours that you choose and from wherever you choose. This can be from a home office, at the kitchen table or even from the comfort of a living room couch.
This flexibility that comes from a home-based business often puts the business owner in complete control of not only their environment, but also their earnings. With a home-based business, you can choose to work part time or full time, depending on your personal preference. Since you set your schedule and work when you choose, you can theoretically earn unlimited income—especially with direct sales opportunities. As with any other business endeavor involving sales, the more you work, the more you sales you make. The more sales you make, the more you earn.
A home-based business can put you in control of more than just one area of your career, especially in the diverse world of direct sales. If you're interested in starting a home-based business with a direct sales company that has an extensive history and stable reputation within the industry, consider Kaeser & Blair. The Kaeser & Blair Promotional Products Business Owner Program is an excellent opportunity to successfully regain control over your career, with a business model that has been turning ordinary people into entrepreneurs for decades.