By Kurt Kaeser on 2016-02-16 in News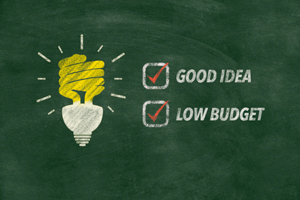 Many companies across industries offer low cost business opportunities, or what they claim are low cost business opportunities. The confusion arises from where the whole "low cost" thing comes into play—is it referring to low startup costs, maintenance costs or additional costs involved? The truth is, with all low cost business opportunities, "low cost" should refer to each phase of running the business—from startup to simple maintenance. And that's how it is for Kaeser & Blair Promotional Products business owners, making it one of the best low cost business opportunities around.
Kaeser & Blair offers very inexpensive startup, and options to put you in control of the initial investment. To begin your career as a promotional products business owner, you simply purchase one of the two business owner packages made available by K&B. That's right—unlike other low cost business opportunities, with K&B, you actually get to pick which option and which investment is best for you. The Standard Business Owner Package is $85, and includes product samples, a variety of manufacturer catalogs and immediate access to online resources—everything you need to get your business up and running at full force.
The Premium Business Owner Package is an expanded version of the Standard Package. It includes everything in the Standard Business Owner package, along with a personalized website with your own unique URL, additional catalogs, personal business cards and 100 Javelina Tropical pens with your own unique message. At only $335, this expanded kit is intended to help you better build your brand and establish your self within the industry.
Unlike many other low cost business opportunities—or those claiming to be low cost—Kaeser & Blair makes this opportunity risk-free. When you sell your first $1,500 in promotional products, the $85 portion of your investment is refunded. And if you decide within 30 days that selling promotional products isn't for you, simply send the package back for a full refund.
Kaeser & Blair is also one of the more unique low cost business opportunities because there are no maintenance costs. Many low cost business opportunities require you to purchase and maintain a certain amount of inventory, with no guarantee that you'll sell it. Kaeser & Blair does not. The purchase of the business owner package is the only investment required to start and maintain your business. Once that is purchased, the business owner focuses on investing their time selling promotional products to their clients, not investing their money maintaining the business.
Low cost business opportunities should have a few things: inexpensive and risk-free start-up, and simple maintenance. Kaeser & Blair offers its independent business owners each of these things, with some added bonuses. The low cost business opportunities with Kaeser & Blair also offer industry-leading profits, faster payment and a partnership with a company that has a reputation rivaled by few. It's easy to see why Kaeser & Blair is one of the best low-cost business opportunities around today.