By Kurt Kaeser on 2016-02-02 in News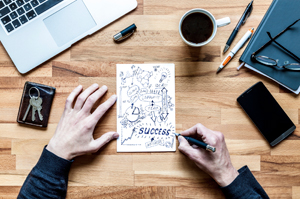 Being an entrepreneur is an appealing profession of sorts. Entrepreneurs get to be their own boss, run their company and control their future. Many struggle with where to begin the journey—how to find their own business ideas and what to consider when attempting to make them a reality. When looking for your own business ideas, there are a few key characteristics to consider that will ultimately determine your ability to be successful with your new endeavor.
Consider the investment of time and money.
Many jump headfirst with their own business ideas without properly evaluating the likelihood of success or the practical aspects of the business, such as the required investments of time and money. When thinking about your own business ideas, it is important to take these into consideration—initial investment, maintenance and inventory costs (including office space and equipment purchase or rental), and any others that would be involved in the process. Considering these investments will help prevent getting in over your head.
You need a plan.
When thinking about your own business ideas, it is very important to be realistic. Make a plan for each idea, and think about the likelihood that it would be a success. Consider the amount of time you need to invest initially, and the time it would take to maintain the business. Then truly consider whether or not it is sustainable. Are you prepared to build the business from the ground up, or do you need to go with an option that does the majority of the work for you? Do you have the time to dedicate to your own business ideas, or do you need to go with an idea that has already been established and has an extensive history of success?
Consider a partnership.
One of the best ways to bring your own business ideas to life is to partner with a company that has an established model and reputation within a given industry. The promotional products industry is booming, and Kaeser & Blair has been a leader in this industry for decades, helping turn ordinary people into successful entrepreneurs. They offer an inexpensive business owner package—starting at $85—that includes everything needed to get your business up and running.
Additionally, there are no maintenance fees and no inventory to maintain when you pursue your own business ideas with Kaeser & Blair. After the initial investment for the business owner package, you have nothing left to purchase. And since you can work from the location that is best for you, there is no cost for office maintenance or space rental. Kaeser & Blair Promotional Products Business Owner Program gives its business owners the perks of being an entrepreneur, minus the overhead.
So stop just thinking about your own business ideas, and start taking action with Kaeser & Blair. Get started today!