By Kurt Kaeser on 2019-12-20 in News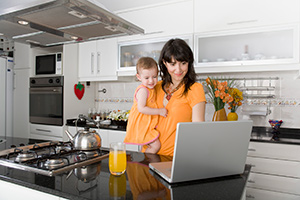 7 Tips for Searching for Stay at Home Mom Jobs
Stay at home mom jobs are a great way to earn money without leaving the comfort of your house. However, there are some things to consider before jumping into a new job, whether it be part or full time.
Search for flexibility.
Look for jobs that offer you flexibility. A lot of stay at home mom jobs require that you put in a minimum number of hours per week, but as a busy mom, you may not always be able to do that!
Search within your skill set.
You know what you're good at! Look for something that allows you to use your strengths to your advantage.
Search for learning opportunities.
Is there a skill that you want to learn, but haven't had the opportunity to yet? Stay at home mom jobs are the perfect chance to do something new!
If it sounds too good to be true, it probably is.
We're passionate about helping people start their own business, but there are some out there who just want to take your money and keep you from making any. If a company offers something that sounds like it's too good to be true, it probably is!
Do research on the company.
Before you make a commitment, research every aspect of the company. This should include customer and employee testimonials, awards/certifications the company has, and how you get paid.
Use social media and online forums to your advantage.
Companies almost always advertise on social media when they're hiring. Keep an eye out for potential opportunities!
Understand the risks.
Consider how much of your own money you have to put into stay at home mom jobs. Starting your own business is an investment but have an idea of how much you're willing to spend.
If you're interested in stay at home mom jobs, consider learning more about Kaeser & Blair's Business Owner Program! With a low start-up cost and flexible scheduling, it may be the perfect choice for you.